THE LOVE STORY OF ZELDA & MAURICE
by Maurice Gerow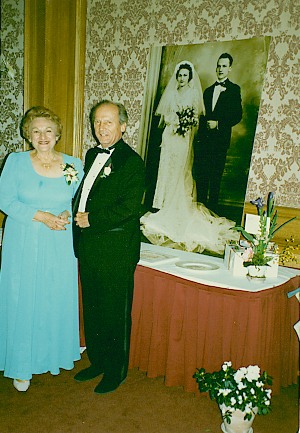 Yit-ga-DAHL, v'yit-ka-DASH sh'may rab-BAH. She lay there looking so peaceful. Through all those tears in my heart I knew she had not died, only passed on to a more peaceful existence free from pain and suffering. Memories. Memories of our lovely marriage of nearly sixty-two years floated through my mind. We survived the hard times and created happy memories. I am grateful that years ago, despite my youth, I managed to do one brilliant thing-I married Zelda.
Zelda was born in Detroit, Michigan on December 14, 1915 to Sam and Edith LaZebnik, and lived at 527 Jay Street in Jackson when I first met her. I was born in Jackson on October 14, 1915 to Alton and Rhea Gerow and lived at 525 Lansing Avenue only two blocks away. Both Zelda and I attended kindergarten at the Lansing Avenue Elementary School.
I never quite understood why Zelda fell in love with me. My tenor singing voice? My good looks? As a boy of twelve I sought out friends for play. Since I lived so close to the LaZebnik's house it was easy to find someone to play with. Among the five children Bill, Zelda's younger brother, and I found common interests and bonded. Often I arrived at his house having only to wait until he completed his Jewish morning prayers before we could play. I knew he had a sister, but she was "just a girl!" It was more fun to be with Bill.
When I was sixteen, something magical happened. Zelda was transformed from just the sister of my friend to a lovely young woman. I remember the evening, sitting around the kitchen table with Ma LaZebnik, brothers Bill and Herb, sister Jeanette, and Zelda sitting at the other end of the table. While I was conversing with her brothers, Zelda with a devilish gleam in her eye, suddenly told me to "Shut up!" Again when I was talking she said, "Shut up!" These comments upset me. So, I blurted out, "If you tell me to shut up once more. I'm going to kiss you!" A moment passed, then from her lips came, "Shut up!" once again. I got up and chased the impertinent girl around the kitchen table. Finally I caught her, then kissed her on the cheek. Blushing, she screamed "Ma, tell him to stop!" Of course I stopped, but that was the start of our romance!
I remember our first real kiss. It was a cold November 7, 1931. We were standing in their summer kitchen. "May I have a kiss?" I asked. She replied, "I don't kiss every Tom, Dick, or Harry unless I am going steady!" I couldn't persuade Zelda that I wasn't any Tom, Dick, or Harry so, I agreed to go steady with her. That did it! I got my kiss and the bells began to ring and the chimes began to chime! What does a young boy of sixteen do when he is in Love? He promptly goes out and gets a tattoo. For thirty-five cents I had a heart tattooed on my right shoulder with the name ZELDA placed in the middle. She was upset when she saw my "badge of love." She asked, "What if we never get married?" I replied, "Then I'll put the next girl's name on my left shoulder."
The atmosphere in the LaZebnik home was friendly while we were in High School. Zelda's brothers, Bill, Herb, and Jack, were very fond of me. I was almost like a brother to them. In June of 1934 Zelda and I graduated from Jackson High School. As Zelda approached the age of twenty the LaZebnik household atmosphere began to change. On Sundays, Sam and Edith traveled to Detroit with the family to buy kosher food and visit relatives. Sam's two sisters began to criticize him for allowing his daughter to be friendly with a "shagets." Sam's temper steamed to the boiling point. Back in Jackson he walked in on Zelda and me hugging. The roof raised above the house from the emotional explosion. Sam promptly dismissed me from his home. Perhaps it would be more accurate to say, "He kicked me out of the house!" He wanted his daughter to marry a rich Jewish boy and began regularly to invite young Jewish doctors into his home for meals and to meet my Zelda.
This scenario repeated itself so often that Zelda became ill with a nervous cough. Sam sent her to Detroit for a while to live with relatives to get rid of the cough and Maurice. After high school I enrolled as a student of Music at the University of Michigan in Ann Arbor. I had a tough time finding money for tuition and daily living. I borrowed money from my Uncle Leo for tuition and through odd jobs made a living. My idea of a good evening meal was to cross the street from my rooming house to eat at a small café. Dinner consisted of a bowl of chili and all the crackers I could get.
On weekends I hitched rides back to Jackson to sing with the paid quartet at Temple Both Israel. On Sunday mornings I sang solos in a Protestant Church. During those weekends in Jackson, I waited outside the LaZebnik house until I though Sam was asleep. Then I tossed a small stick up to Zelda's bedroom window. She came down in her slippers wearing a coat with a fur collar. Huddled together I got more kisses from my brown-eyed Zelda. The bells rang again and the chimes kept chiming.
Frequently, I sang in recitals. Whenever Zelda was in the audience, I sang our favorite song while looking at her. The words went like this:

When I have sung my songs to you, I'll
Sing no more. T'would be a sacrilege to
Sing at another door. We've worked so
Hard to hold our dreams, just you and I. I
Could not share them all again. I'd rather
Die with just the thought that I had loved
So well, so true! That I could never sing
Again. That I could never, never sing again
Except to you.

While growing up my parents were not religious and I did not attend church. I started when I was fifteen to sing in churches and later in a temple quartet. Religion for me became eclectic. I took the good from each denomination as a part of my philosophy of living. As a youth, I was frequently a part of the LaZebnik's home life. The food was better in Zelda's Jewish home than in mine. I felt very comfortable with the Jewish way of life. In the home at Passover services conducted by her father, I held hands with Zelda under the table. At temple services I became familiar with the Hebrew sung at services. Exposure to so many religious philosophies produced a young man with no mental conflict between his personal philosophy of living and the Jewish way of life.
In June of 1938 I graduated from the University of Michigan with a degree in Music and a Teacher's Credential. I wanted to marry Zelda, now that I had the prospects of a job. So in order to realize my dreams, I asked Rabbi Charles Lesser to instruct me on how to become a good Jewish husband and father. With weekly sessions at his home, I learned about the history and traditions of Judaism. Zelda did not know about my plan.
My father died when I was fifteen. My mother and I lived with her brother. They both approved of my converting to Judaism. They both dearly loved Zelda. So, on the eleventh of December, '938 at the rabbi's home, I met with two members of the temple, the president-Louis Glick-my mother and my uncle, and officially became a Jew. Zelda was overcome with emotion and cried when she found out. Sam was so overcome with emotion he gave me his diamond ring to wear, and his blessing to marry his daughter.
After graduating from the University, I accepted a teaching position at Remus, Michigan, a small town of about 500. I taught English, Social Science, Typing and Vocal Music for $1200 a year.
Our wedding date was set for December 25th. This week through January 1st was my school vacation time cough for a short honeymoon. Zelda borrowed her wedding gown from a friend and I borrowed my tux from my high school vocal music teacher. The wedding was to be held in Temple Beth Israel, an old one-room schoolhouse renovated for Temple activities. On Sunday at 4 p.m., we were married by Rabbi Lesser under a traditional chuppah with the glass breaking ceremony. After the ceremony guests went down into the basement of the Temple for the reception. Sam's two sisters came dressed in black with black hats. To everyone's surprise, David Eisenberg, Zelda's nearly one-hundred-year-old grandfather, danced at our wedding celebration.
At this time of the year there were few places a couple could go on their honeymoon. I selected Cincinnati, Ohio because it was a large city and not too far from Jackson. As we were leaving Jackson, I was stopped by a policeman on Michigan Avenue for driving too fast. "Officer," I said, "we just got married." He laughed, and said, "I have heard that one before." When I showed him our marriage certificate, he excused us saying, "Drive carefully." When we arrived at Cincinnati, Ohio we were both delighted to be able to sign in at our hotel as Mr. & Mrs. Maurice Gerow. Zelda said she was hungry. We had not stayed for the dinner reception prepared at the LaZebnik home by Edith. So I went out and bought two hamburgers. After eating them we both became too ill for any first evening honeymoon festivities! After recovering we went to see the play Death of a Salesman. Five days later we returned to Jackson without our marriage being consummated. I made an appointment with our doctor. He asked me to stand by Zelda and hold her hand while she lay on the examination table. He then proceeded to surgically solve our problem. On the way home I said to Zelda, "Now we can have babies." She promptly replied, "NO WAY! We have plenty of time!"
In Remus, we managed to rent a room in the Methodist parsonage, an upstairs bedroom which we used for both sleeping and eating on a card table. We finally had our honeymoon. We were like two kids playing house. Everything that happened was a new and delightful experience. On our second night in Remus around 1 a.m. we heard metal pans banging and shotguns firing into the air. We found out this was a tradition for newly wed couples, a shiveree. Adults involved demanded goodies or else they would kidnap my wife. We both went downstairs and gave them their goodies.
Zelda was born to be a good wife. Like her mother, when she got up in the morning, she got dressed complete with silk stockings and shoes, then she was ready to make my breakfast. This practice continued for our entire married life. She was friendly to everyone, no matter what their status in life. The minister's wife would often fall asleep on their couch downstairs and lose her false teeth. Zelda was right there helping until the lost teeth were found.
After my classes in Remus were over on Fridays, we drove to Jackson to be with Zelda's parents and eat Ma's excellent meals. She gave us a few groceries to take back to Remus. One day Superintendent Young asked to see me in his office. He said that someone saw us taking groceries into our house. He expected us to buy our groceries in town and not elsewhere. When I told him it was a gift from my mother-in-law, he laughed.
During college, I worked at different summer jobs: at a vegetable and fruit stand; as a night clerk in a small hotel; in a Goodyear Tire factory; at a heat treatment plant making gears for automobiles; and as a mailman.
While teaching school my yearly salary was paid in nine monthly installments. Again, summer employment was a must.
A phone call in 1939 resulted in an opportunity to teach in the Dearborn Public Schools at a salary of $1300 a year. It was from the superintendent for a junior high school music teaching position. In June of 1940 our first child was born, Richard Alton. We called him Dick. Wherever we lived Zelda would go back home to Jackson two weeks before she gave birth to our other three children. She had each baby in Mercy Hospital. Our D Major Quartet was completed with David in 1942, Diane in 1944, and after two miscarriages, Dennis in 1953. We lived in Dearborn where I taught junior high music for three years.
In the spring of 1942 I received a call from the Director of Teacher Placement for the Detroit Public Schools for a vocal music teaching position at Cooley High School. I promptly accepted. Cooley High had an enrollment of 4000 students and an excellent choral program. While living in Detroit my extra jobs included singing in a large Jewish temple, a downtown church, and the Ford Sunday Evening Hour Professional Chorus, which broadcasted each Sunday night with the Detroit Symphony. During the first three of the five years at Cooley High, I completed my Master's Degree in music at the University of Michigan. But then in March of 1945 I was drafted into the Army. Because I had three children I was released in November of 1945.
During my Army days Zelda managed to rise above the hardship of being alone with three children. Without help she mowed the lawn, shopped for groceries, etc., and all the time cared for the three D's. Each morning she got dressed with make-up on before dressing the children to feed them their breakfast.
Again, another phone call. This time it was for an Assistant Professor position at the Iowa State Teachers College in Cedar Falls. They needed a man with public school teaching experience, one who could train and direct an A Cappella Choir, and one who had a tenor voice to sing with the faculty quartet. Of course I would accept! By the summer of 1947 we had a family of three children and the move was hectic.
In Cedar Falls we rented a two-story house on 21st Street that originally had been on farmland. The house had three bedrooms on the second floor and a bath off of the kitchen on the first floor. The stucco on the outside walls was crumbling. The house had a cellar with a coal furnace for heat. To move from a new house in Detroit with forced air gas heat to a dilapidated old house with coal heat was quite an adjustment for us all. But Zelda's character was strong and she was able to cope with change and disappointments. She had the ability to accept change in a positive way and to make the best of each situation.
Small town living was a new experience for the three D's. In Detroit they rode their bikes and wagons on cement sidewalks with cement block walls and fences separating the houses. Cedar Falls was almost like country living without fences separating houses and two large empty lots behind our house a neighborhood playground.
With Zelda's charming, warm personality, friends were made easily. She invited neighbor ladies to our back yard for coffee and homemade cookies and cakes. She was just as ease inviting the wife of the President of the College to an afternoon of tea with faculty wives. She included music faculty members with no place to go on holidays and Thanksgiving dinner. Music faculty receptions were eagerly attended at our house with Zelda providing home made refreshments.
One cold winter Zelda and I were walking to our parked car to go shopping. I noticed black smoke pouring out of our chimney. In a loud voice, I pronounced something must be done about that smoke pouring out of the chimney or someone would have a roof on fire. As I walked to the driver's side of our car I continued muttering in a loud voice. I closed the door and drove down the street. In my rear view mirror I was surprised to see Zelda standing in the street with her hands on her hips and an amused look on her face. In the heat of my outburst, I had forgotten to unlock her side of the car. We both laughed at this stupid oversight. That's when I was initiated into the realm of the Absentminded Professor Fraternity.
One Sunday morning I remember getting ready to go on a week's tour with the College A Cappella Choir. Zelda had a miscarriage. I managed to get her into the hospital. Then came the big decision. Should I call off the tour with so many people involved? One of the music professors and his wife, Emil and Lori Boch, came to our house and offered to care for the children while I went on the tour. Overwhelmed by their generosity, I accepted when they assured me we would be in constant communication keeping me abreast of Zelda's medical condition. It all turned out well and Zelda came home happy to see the children and me but sad because of the lost pregnancy.
At the Cedar Falls Teachers College I taught music education classes and directed the touring A Cappella Choir for five years. But if I expected to remain teaching at the college level, I knew that I must have my Doctorate. I took a leave of absence from the college from 1952-53 and packed up the family. It's surprising how much an emotional attachment can come for a place and its people as it did for us in Cedar Falls, Iowa. In June of 1952 it was a sad sight to watch the children and Zelda say goodbye to neighbors, friends and our children's buddies, Rita and her sister Jeanie, as we drove away.
I parked our family in Jackson, with Sam and Edith's consent, and enrolled at the Michigan State University Music Department in East Lansing. On weekends I drove home to Jackson to be with Zelda and the children. One day during my studies at Michigan State, my major professor called me into his office and told me he had received a phone call from Dr. Gladys Tipton of UCLA in Los Angeles, California. She was looking for a man with public school music teaching experience, who could direct a men's glee club, and who had or was working towards a doctorate degree. The job was for an Assistant Professor position. My professor said this position was an excellent opportunity. Of course I talked it over with Zelda before actually accepting. Zelda was always supportive of my decisions regarding my professional career. This time it was a huge decision to make, because it meant I would take longer to complete my doctor's degree because of the great distance between Michigan and California. I gambled; I applied and was accepted for the position, which was to begin in the fall of 1953.
Zelda gave birth to our fourth child, Dennis, on January 29, 1953. That summer I drove our automobile stacked with clothes and Dick, while Zelda took the train and the three little D's. In Los Angeles we stayed in a motel before finding a small house to rent. This house had only two bedrooms, one bath and was located in West Los Angeles. In 1956 we purchased a Spanish style house in the same block and moved in with our children and Deedee, our Collie dog. We enrolled the children in a Jewish temple Sunday school where each eventually completed their Bar Mitzvah training.
As time passed the D major quartet graduated from High School. Dick went on to college; Diane completed nurses' training; David enrolled in the Navy. Currently: Dick is employed at Home Depot and lives with his wife, Debra and family in Las Vegas. David married Sue and now is divorced. He works for a retirement home in Orange, County. Diane, a retired I.C.U. nurse, lives in Scottsdale, Arizona with her husband Ken Corn. Dennis is an America West Pilot. He lives with his wife, Debbie and family in Phoenix, Arizona.
Over the years the woman I married took classes in flower arranging, cake decorating, and art. Her birthday cakes ranged all the way from a jack-in-the-box, to teddy bears, men's shirts with tie, to a sixtieth wedding anniversary cake for her parents. Her sponge cakes were the talk of the town, standing a foot high. She also accumulated 3500 hours in volunteer work at the Santa Monica Hospital. What a gal!
While teaching at UCLA, I continued my temple singing and directing choirs. I finally completed my doctorate at Michigan State and was promoted to a full Professorship in the Music Department. A colleague of mine, Paul Tanner, asked if I would collaborate with him in writing a book on Jazz. He had been in the Glen Miller Orchestra for years. He wanted me to work with him because of my background in teaching public school music. The emphasis would be on a text suitable for use in schools and colleges. The book published by McGraw Hill is currently in its eighth edition.
Time passes. After 29 years of teaching at UCLA, I retired in 1982. That's when I took up the art of oil and pastel painting. Surprisingly I became quite good at it. In 1994, Zelda had several surgeries and became very ill, enough so that I gave up my painting in order to care for her at our home. She passed away on June 14, 2000.
At Zelda's memorial service our children commented on their mother's life.
Diane Gerow Corn remembered, "Mom taught us how to give with love. 'The payback,' she would say, 'is the smile you see and the difference you make in people's lives.' For example, on May Day we delivered baskets of cookies and cakes she had baked to each of the neighbors on our block. I remember her saying, 'It's a surprise. Drop the basket and run away fast. Don't let them see you.'"
Dennis Gerow remembered, "When we were kids we played up and down the street, often cutting across the lawn of three spinsters. They complained to Mom. So each holiday she baked cakes and cookies, loaded us up and made us deliver them to the three curmudgeons. The lesson I learned was that when people get mean and nasty, kill them with kindness.
"Mom also taught us to nourish the friendships we had as children. She told us, 'Those childhood friends will be there for you, as you grow older and may need someone.'
"When we were disappointed she told us to bite the bullet, not to cry and things would get better. This is one of the biggest gifts she passed on to me.
"Mom and Dad together had an aura that seemed to surround them. They had such love for one another that they radiated love and kindness to others."
After being together for nearly 62 years, the thought is still with me that I managed to do one brilliant thing in my life, better than any college degree, greater than any teaching position. I married Zelda.
Dear Zelda: "When I have sung my songs to you,
I'll sing no more!"

Your Loving Husband, Maurice
---